Experience A September to Remember with Sandy Lane Barbados
The Sandy Lane resort in Barbados is the very epitome of luxury and offers a VIP experience that is truly exceptional. An exquisite resort, considered by many to be the premier address in the Caribbean and is a firm favourite with travellers.
With its pristine white sand beaches, crystal clear waters, and lush tropical greenery, Sandy Lane is a paradise that will take your breath away. The resort boasts spacious suites and villas, each one beautifully designed and furnished to the highest standards, with every detail carefully considered to ensure the ultimate in comfort and relaxation.
But it's not just the stunning surroundings and luxurious accommodation that make Sandy Lane so special. The resort also offers an unparalleled level of service, with a team of friendly and attentive staff on hand to cater to your every need. From the moment you arrive, you'll be treated like a VIP, the only way to experience Sandy Lane.
Whether you're looking to relax and unwind in the tranquil surroundings of the spa, indulge in some world-class dining, or simply soak up the sun on the beach, Sandy Lane has everything you need for the perfect Caribbean getaway. So why not treat yourself to a little slice of paradise and discover the magic of Sandy Lane for yourself?
There are four restaurants to choose from during your stay, each restaurant offers a unique dining experience that caters to your individual preferences. If you're looking for a romantic dinner, the beachfront restaurant offers a candlelit dinner under the stars. Alternatively, if you're traveling with your family, the buffet evenings are a great way to please everyone's taste buds with a wide variety of options available. And for those who appreciate a good view with their meal, the Clubhouse Restaurant is the perfect spot to enjoy a delicious meal while taking in the breathtaking scenery. No matter what your taste, the restaurants are sure to provide a memorable dining experience during your stay.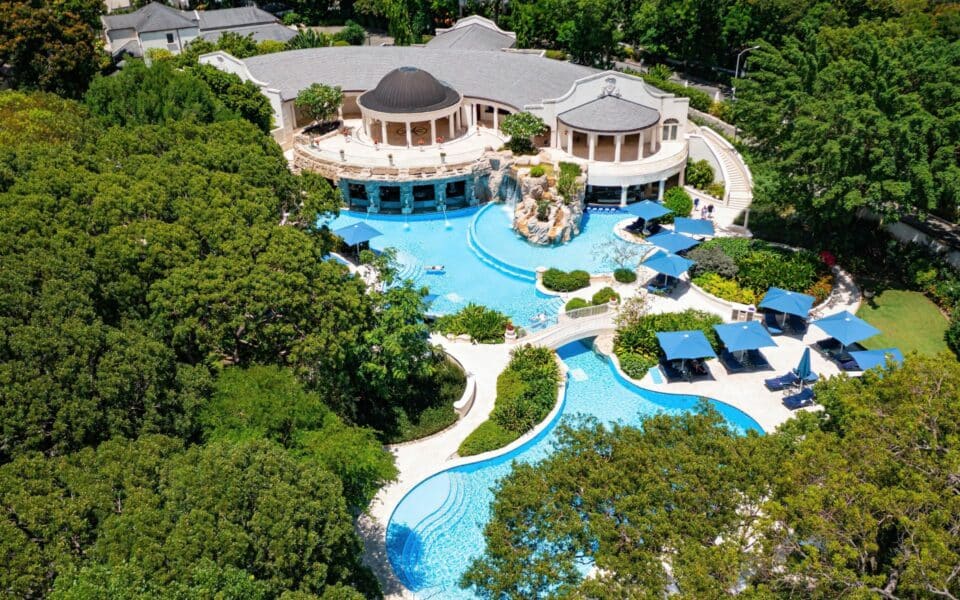 A stunning swimming pool with cascading waterfall and surrounding tropical gardens, as well as one of the best beaches in Barbados.
This luxurious destination is the perfect place to unwind and escape the hustle and bustle of everyday life. Whether you prefer to lounge on the pristine white sand beach, take a dip in the crystal-clear waters, or simply relax by the pool with a refreshing tropical drink, you'll be able to indulge in the ultimate vacation experience.
The swimming pool features a breathtaking design that's sure to impress. With its cascading waterfall and lush tropical gardens, it's a true oasis of tranquillity and relaxation. And with plenty of comfortable loungers and sunbeds, you can soak up the sun and enjoy the stunning views in complete comfort.
Of course, the real star of the show is the beach. Widely regarded as one of the best in Barbados, it's a true paradise for sun lovers and water sports enthusiasts. And with attentive and personalised service from the friendly staff, you can relax and enjoy the beach in style.
Golf enthusiasts will find themselves in paradise at Sandy Lane. The resort offers not one, but three championship golf courses that cater to players of all levels.
The Old Nine course is a classic, with charming features that include rolling fairways and scenic views of the Caribbean Sea. The Country Club course, on the other hand, offers a more challenging game, with undulating greens, water hazards, and strategically placed bunkers. The Green Monkey course, the most famous of the three promises a unique and exciting experience. Guests staying at Sandy Lane can exclusively enjoy this course and test their skills on one of the most exclusive golf courses in the world. Whether you're a seasoned pro or just starting, a game of golf at Sandy Lane is an experience you won't soon forget.
Indulge in the lavish guest rooms, suites, penthouses, and 5-bedroom villa, all of which offer stunning views, beautiful gardens, and an unparalleled sense of privacy. Sandy Lanes timeless elegance and relaxing comfort are a given, but it's the warm Barbadian hospitality and personalized service that truly sets us apart.
Each room comes equipped with Italian marble floors, modern amenities, and spacious porches. Whether you prefer a garden or sea view, the plantation-style furniture and inviting atmosphere will make you feel right at home.
Boasting an award-winning spa that draws on wellness traditions from around the world. Discover the hotels stunning treatment suites, the spa exudes elegance and warmth, blending Barbadian hospitality with influences from the Caribbean. With a team of highly trained therapists, you can expect personalized and luxurious relaxation, along with access to a full fitness facility and an extensive menu of spa services.
Experience the exclusive 'September to Remember'  with Sandy Lane
Valid to stay between 16th August 2024 till 7th October 2024
Offer includes:
Stay for 7 nights and pay for 6 nights or Stay for 13 nights and pay for 11 nights
Guaranteed complimentary double upgrade (Luxury Ocean Room at Orchid Room rate)*
A "Romantic Bliss" one hour couple's massage or one round of golf at The Country Club per person.
A candlelight dinner for two in Bajan Blue (beverages not included)
A snorkelling trip for two including a dive visit to the shipwrecks
A Classic Afternoon Tea for two
VIP Airport fast-track service on arrival
Airport return transfers in an executive vehicle
Daily full English breakfast