With its distinctly British ties, white sand beaches and warm azure waters, Barbados is one of the UK's most loved Caribbean islands. We delve a bit deeper into the wilder side of this firm LWC favourite.
Its relaxed lifestyle, superb culinary culture and exciting nightlife make it a popular choice for holidaymakers but there's another aspect to Barbados that gives it its appeal.
Take time to explore the island's natural history, flora and fauna and you'll see this Caribbean favourite in all its technicolour glory. On the dramatic northern coastline,
where the Atlantic Ocean pounds the limestone cliffs of Barbados is Animal Flower Cave, given its name from the cave's sea anemones known locally as animal flowers. Accessible via steps down through a former blow hole, this coral floored cave consists of several
caverns of crystal-clear natural rock pools which, on a calm day, offer a beautiful opportunity for swimming and a stunning view of the Atlantic through the 'window' of the cave entrance. Visitors in February and March may even be blessed with watching
whales as they glide past. Further down on the windswept east of the island, the 'Scotland District' of St. Andrew – named after Scotland's patron saint – is so called because it reminded early settlers of Scotland. Sweeping views of the parish's lush, green hillsides and rugged coast can be enjoyed from Cherry Tree Hill, part of the historic St. Nicholas Abbey plantation.
At the heart of the island are tropical landscapes, exotic rainforests and botanical gardens brimming with flowering trees and plants. Meander through the winding paths at Flower
Forest and marvel at the striking natural beauty of Hunte's Gardens, situated in a naturally formed sinkhole within the rainforest. If you've not already seen them at
Sandy Lane's Green Monkey golf course, visit Welchman Hall Gully to witness the Green Monkeys feasting on their morning feast of bananas before enjoying fabulous
views across to the east coast and exploring the rocky remnants of a collapsed cave.
Ringed by coral reefs, the island offers great opportunities for snorkelling and diving but inland at Harrison's Cave, the coral sediment has resulted in a jawdropping
network of caves and underground lakes with waterfalls and stalagmites and stalactites.
Discovered in the early 1700s but not open to the public until 1981, visitors ride on a tram all the way to the cave's centrepiece – the Great Hall cavern measuring 15
metres high.
Back along the coast, take time to discover one of the island's many beaches. Thanks to it being a coral island – the only one in the region – the beaches are made of white or even pink sand and as all beaches are public, they are waiting to be explored. Head away from the popular beaches and you'll be sure to find yourself a hidden cove all to yourself.
On the east coast don't miss the dramatic rock formations and natural pools at Bathsheba
beach. It provides a contrasting experience to the calmer nature of the island's Platinum West Coast where Fairmont Royal Pavilion is the only hotel on the island to
be located directly on the beach, perfect if you want to wake up and immediately feel the sand between your toes.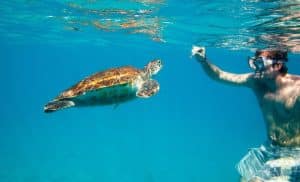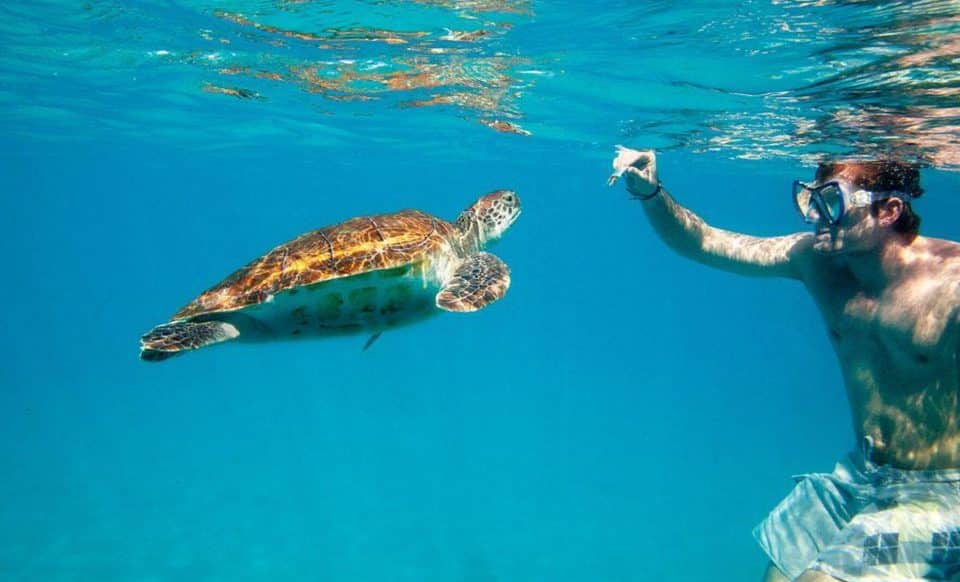 And once you've discovered all there is to see on dry land, head out to sea for coral reefs, shipwrecks and of course, Sea Turtles. Barbados is home to both the Hawksbill
and Leatherback Turtles, who make their nests on the island's beaches. You don't have to take a catamaran cruise to see them, guests staying at Treasure Beach and Tamarind by Elegant Hotels may be lucky with their snorkels. The island is proud of its nesting
population and goes to great lengths to ensure these animals are protected, with a 24 hour 'Sea Turtle Hotline' to monitor sea turtle "emergencies". At just 21 miles long and 14
miles wide, it's easy to navigate Barbados and visit some of the island's more natural wonders. If you fancy exploring at your own pace, driving is easy and accessible
but if you'd rather be shown the way, many local tour companies are on hand to guide you.