We've travelled the length and breadth of Caribbean and spent years honing our knowledge of this superb archipelago to enable us to put together exactly the right holiday for you and we keep our knowledge as up to date as possible.
So, when our Head of Sales and Caribbean specialist, Joanne Chandler recently had the opportunity to take a trip to Antigua to see new openings and some old favourites we sent her off note pad in hand to report back.
Read on for some expert insights into Antigua and a few personal tips from Jo….
Antigua is only 8 hours from London, one of the closest tropical island destinations from the UK, choose from BA or Virgin flights from London. No resort is more than an hour from the airport and your luxury private transfer will give you time to get just a taste of beautiful Antigua!
My first stop on the trip was Galley Bay Resort & Spa. As you arrive,  a long drive way  takes you through tropical trees and past a lagoon  to the resort and the first thing you see is a beautiful beach and crystal blue sea! It's a stunning sight (especially after a long plane journey), and then you arrive at the resort, which is set all along the most beautiful palm fringed, white sand beach. Heaven!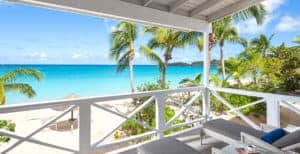 Galley Bay is a small boutique resort and just for adults/couples and the atmosphere is peaceful and quiet. This is an all-inclusive resort, and that works really well as the beauty of Galley Bay is that it is secluded, so going out and about means you need to take a taxi (very easily done) so knowing you have all meals and drinks included is perfect. Food here is fresh and tasty! I loved the local seafood, but there is a great choice for everyone, with 3 restaurants in total (all beachfront).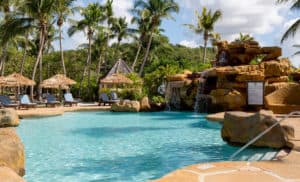 The hotel has less than 100 rooms and is only built on 2 levels. All rooms have with balcony/terrace, air-conditioning, ceiling fan, TV, telephone, complimentary WiFi and much more. They are spacious large and spacious with lovely bathrooms.  In addition to these there a select number of Suites which sit in the resort gardens and have their own plunge pools.
Perfect for: Adults and couples
I loved: The wonderful beach setting, so peaceful and beautiful
I recommend: Galley Bay for a honeymoon or couples recharge
Some Pictures from Jo's Galley Bay Experience
After two fabulous nights at Galley Bay, we moved onto Blue Waters, which sits in the north of Antigua. This is also an all-inclusive resort but bigger than Galley Bay and an ideal family destination. With its own secluded cove, it is a family-owned hotel and has everything you could want …  freshwater pools, 17 acres of lush tropical gardens and a British-colonial style resort designed for luxurious comfort and relaxation.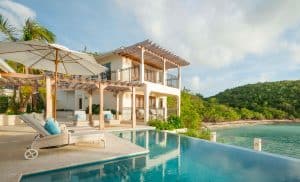 Other facilities include a tennis court and game room, a children's club and water sports with lessons.  The on-site spa offers a great selection of treatments to let you unwind and forget the world!
The great thing about Blue Waters it that it has accommodation to suit every budget and taste. The resort rooms and suites all have patios or balconies and have a lot of modern touches or you could consider upgrades to the Cove Suites (which sit at the end of the resort and are more modern), Rock Cottage or for a group the newly refurbished Beachfront Villas.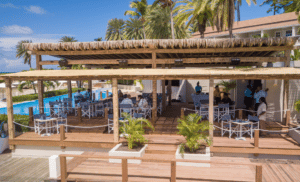 Perfect for: Families and Activity Seekers
I loved: The choice of all-inclusive options (including in room dining)
I recommend: Upgrade to The Cove Suites or even one of their villas if you have a large group
Some Pictures from Jo's Blue Waters Visit
The final 2 nights of my Antigua journey took me to the world renowned Jumby Bay Island. All I can say is 'wow'! I was blown away by this resort. Accessible only by boat (a very lovely Catamaran), Jumby Bay is a private island two miles off the coast of Antigua and this 300 acre island is heaven!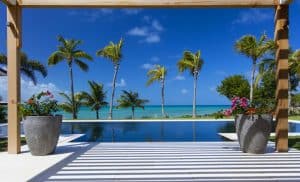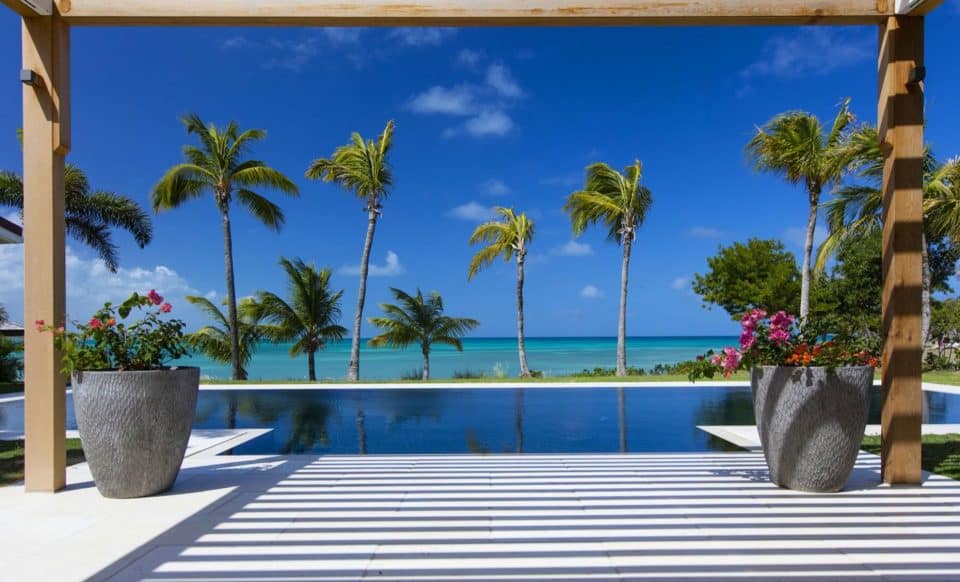 Space and luxury are the key offerings of Jumby Bay, it's a truly unique and wonderful place with just 28 hotel suites 14 villas and 20 Estate Homes (privately owned but can be used for holiday stays) dotted around its palm fringed shores. All-inclusive, it has several dining options as well as in room/suite dining for guests, these include The Estate House restaurant,  The Veranda Restaurant and Bar and The Pool Grille not to mention their weekly Saturday White Party on the beach!
The all-inclusive experience really means everything … with free-flowing Taittinger champagne, yacht trips and all-day dining part of a stay. There is so much to do here,  it's difficult to list it all but you can enjoy watersports, guided snorkeling, kayak tours, Cinema on the Beach, tennis, a wonderful spa and great children's facilities too! If you'd like the whole list let me know!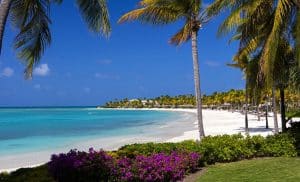 I stayed at the Private Estate House, Ty Compton, which is truly out of this world! (take a look at my album below for some images).  With eight independent suites for guests and fully serviced by staff, (not to mention a gym, games room, enormous wine fridge and the best private swimming pool I have ever seen!) this is a real luxury home from home and the perfect choice for privacy for a group. Ty Compton is just one of exclusive privately owned properties that can be rented for a holiday if available .. please let me know what you're looking for and we can find an Estate Home to match your requirements.
Perfect for: Families, groups & couples – Jumby has space and something for everyone
I loved: EVERYTHING! This is a fantastic private island retreat. But really the friendliness of the team and their service were a stand out.  Nothing is too much trouble
I recommend: Making use of your complimentary bicycle – everyone gets one and there are 2 kilometres of palm-fringed paths winding through this 300 acre private estate, it's so peaceful (and good to work off some of the amazing food!)
Some Pictures from Jo's Jumby Bay Stay
During my visit to Antigua I also spent some time looking at the other hotels ….
CARLISLE BAY
Carlisle Bay is located on the south coast of Antigua, and has one of the most beautiful beaches on the island It has 87 junior or 3-bedded suites, each of which is comfortable and spacious with fantastic ocean views.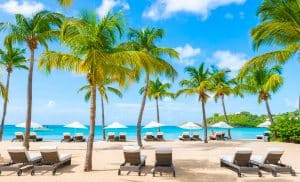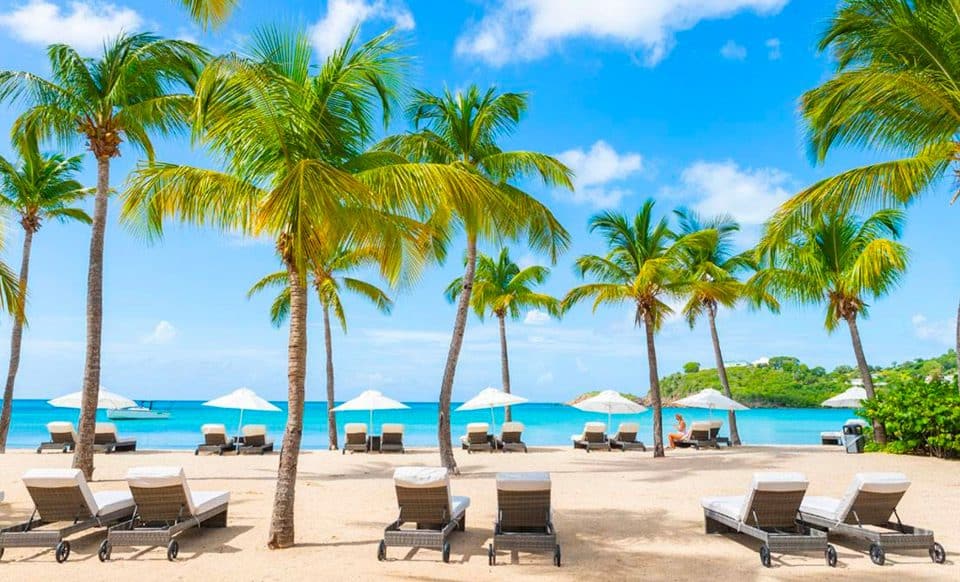 This resort is a real family favourite and they do great activities for adult and kids alike and the room configurations are really good for families.  Their All Inclusive offering is also brilliant.
Perfect for: Families
I loved: Their incredible beach – this is a really stunning bay just in front of the hotel, plenty of watersports available and don't miss their cinema nights!
I recommend: Upgrading to their all inclusive package, it offers great value (and delicious food options)
HAMMOCK COVE RESORT & SPA
Hammock Cove is a new addition to Antigua since I last visited and it's Antigua's latest Adult Only, All-Inclusive Resort. Very modern and contemporary … it's a brilliant new property with lovely free standing private villas with balconies and plunge pools.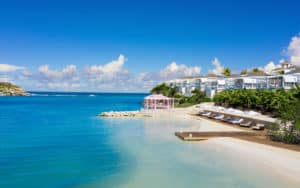 Located just on the edge of Devil's Bridge National Park it overlooks a protected bay and also has 2 restaurants, 3 bars and serves some fantastic craft beer and wine .. not to mention the cocktails  (I had to sample some 😊)!
They have a real focus on activities and health here with a fabulous Spa and Yoga Pavilion and Wellness classes – if you like that kind of thing but equally you can do all the wonderful beachside activities like SUPing and snorkling or take a Mixiology workshop and learn how to make the best Caribbean cocktail at home!
Perfect for: Adult Only  Spa and Activity Lovers
I loved: The boutique, intimate 'vibe', with great service from the hotel Ambassadors
I recommend: Hammock Cove is for relaxing and chilling out – but there are some great wellness and spa activities that you should try during your stay
CURTAIN BLUFF
Beach side Curtain Bluff is an old favourite in Antigua and I've been booking guests here for many years. It has obviously changed over the 50 years it's been open  (with several refurbishments the most recent 2 years ago) and continues to appeal to many of my clients looking for world class traditional Caribbean hospitality, luxury accommodation and world class cuisine.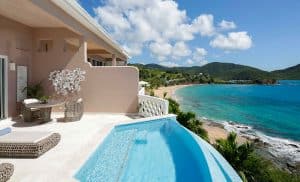 This is a resort built for the family, as the children can learn to sail, swim or partake in any of the other water sports on offer, while mum and dad can relax on the beach or treat themselves at the excellent spa. They have amazing tennis facilities (they even host regular tennis tournaments).
Perfect for: All the family and couples – ideal for tennis and sailing fans
I loved: The traditional Caribbean feel of this hotel, it really is the 'Grand Dame' of Antigua but with all the modern touches and activities you need.
I recommend: Upgrade your stay before you go,  by adding additional services like a rejuvenating massage or a private tennis lesson with one of the resident instructors.
MEET JOANNE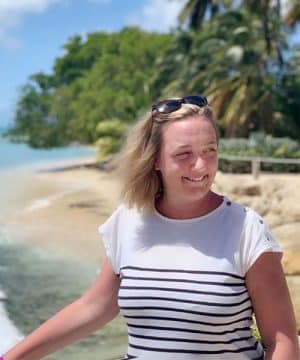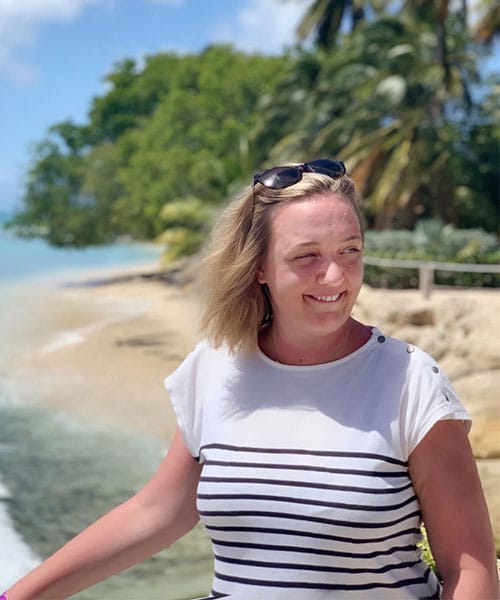 Joanne  (Jo) is just one of our Caribbean experts at Luxury Worldwide Collection. From her first job as a Saturday girl in a Tour Operator she was hooked on travel and has spent the past 20 years developing her skills and knowledge. Now Head of Leisure Sales at EFR Travel, her passion still lies in  putting together tailormade itineraries for her clients, based on her extensive travel experience, and surprising and delighting them with clever ideas and hidden gems!